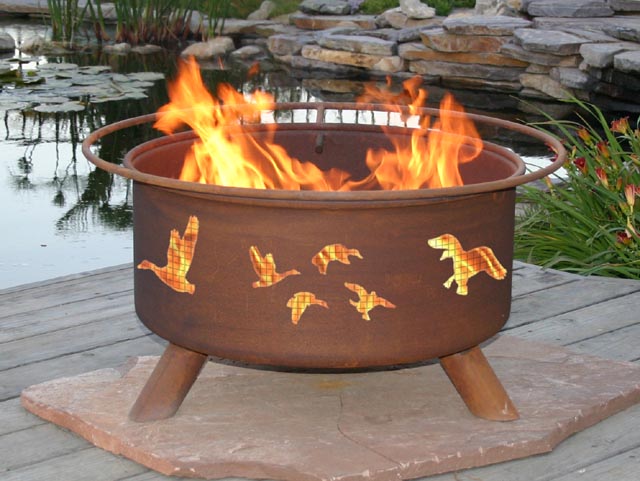 It's October and in some places in the nation it's duck season...no it's rabbit season...no it's duck season. Each year thousands of folks make their annual trek to their duck blinds to take home their limit of ducks. Our wild ducks fire pit grill makes the perfect
fire pit
to have. Not only is it made from cold rolled steel, it has permanent legs attached to the bottom and can be carried around from the camp to the back yard.
In addition our
Fire Pit Grills
include a spark screen, fire poker, and weather cover all of which is included within the price of the item. The designs in each of our fire pits are produced by a CNC machine that cuts the pattern into the steel. The backside of the designs are reinforced so that sparks do not escape out the side of the fire pit but rather the sparks move straight up in the air.
Each of our fire pits have a Patina color to them and like with a good wine , age with time. We have a great guarantee against burn through and rust through. We guarantee that your fire pit will not burn through or rust through for the first five years. did we mention that all of our product carry FREE SHIPPING? Come see us at
Kaboodle Gifts
, you wont be disappointed!