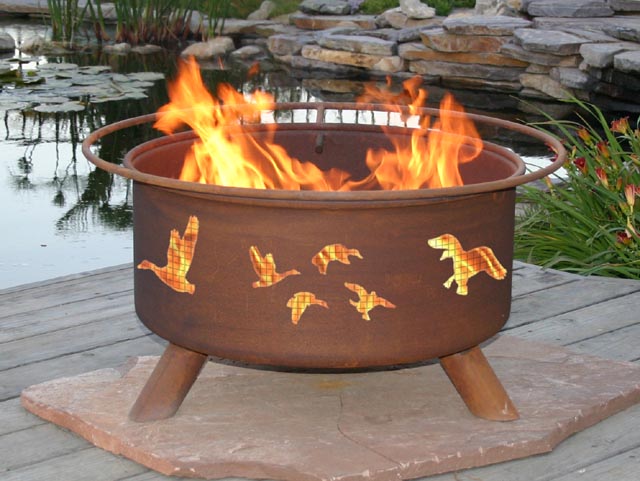 It is the center of attention to any camping experience, The
Outdoor Fire Pit
. Not only does it keep you warm but it also is a great way to relax and enjoy your company. Not only does our
American made outdoor fire pits
meet these expectations, they exceed them.
Our
fire pits
are made from cold rolled steel. They have a patina finish on them that does nothing but enhance the fire pit over time, making it one of the best surfaces that you can have in a fire pit. In addition to that our outdoor fire pits come in several designs that are sure to create a conversation from any camper that passes your campsite.
Each of our designs are cut into the steel with a CNC machine and wires are welded on the backside of the design to keep the smoke from escaping out of the sides of the fire pit, yes that is right the smoke goes straight up and not in your face. The fire pit is also portable so it can be used at a
campsite
or at a
tailgate party
for your favorite team. The legs are welded right to the fire pit so that you have a stable base to enjoy your fire or cook your meal.
Each of our fire pits is shipped
FedEx
right to you at no additional cost to you. So the price you see is the price you pay. Not only do we offer a solid product we also offer value as well. Speaking of value, each fire pit is backed by a 5 year guarantee against rust or burn through, comes with a spark cover,
grill
, weather cover,and a fire poker. We can tell you that we have never had a fire pit returned to us for any reason.
If you have any questions or comments on this subject contact us via our comment form and we will answer them right here for you.